Some serious long-distance snowmobilers are in Dubreuilville, ON today. They're partway through the Canadian portion of the MichCanSka 2015 International World Tour in support of Diabetes Research. This world tour has been in the making for 3 years.
It officially kicked off on February 5th, at Coyote Crossing in Cadillac MI, home of MichCanSka. MichCanSka was created to generate extreme snowmobile adventures and at the same time raise money for Diabetes Research. To follow them on their adventure go to the website at https://michcanska2011.wordpress.com/ or check out their facebook page: https://www.facebook.com/Michcanska "Raising money for Diabetes Research is our goal, having fun is how we do it!"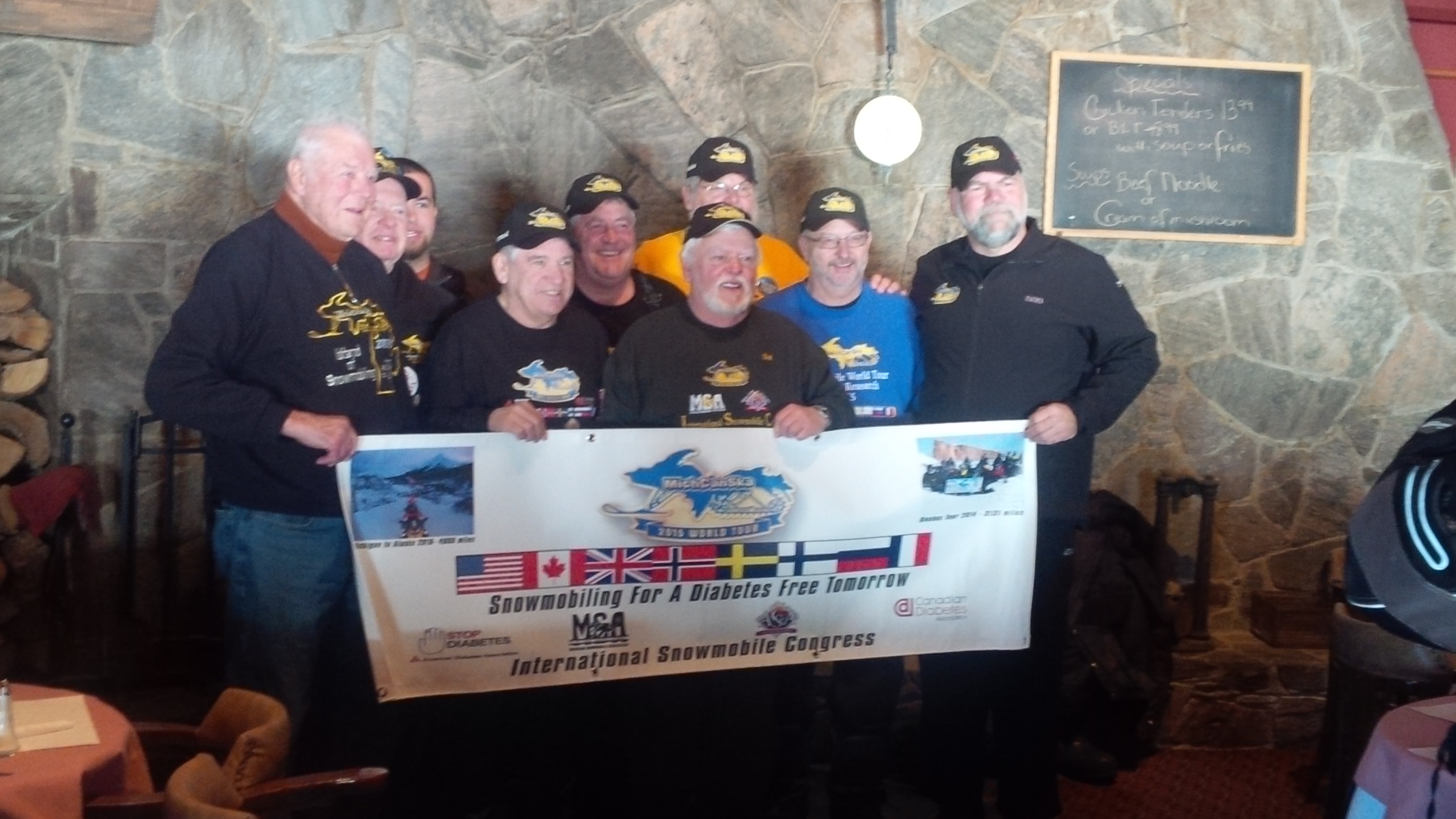 The group posing for a photo at the Wawa Motor Inn on the morning of February 9th, 2015.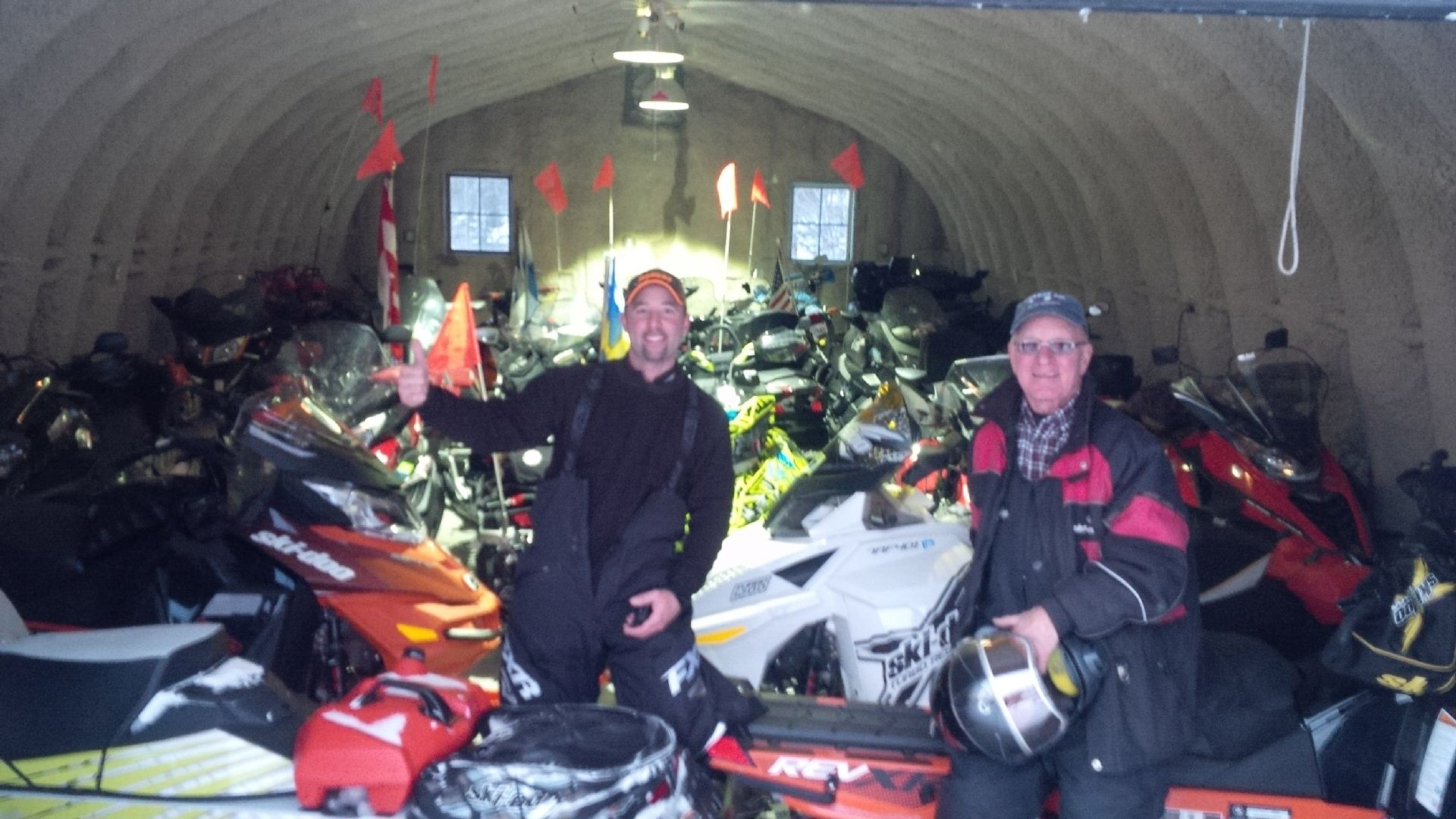 25 sleds in the heated garage at Magpie Relay Resort & Motel in Dubreuilville.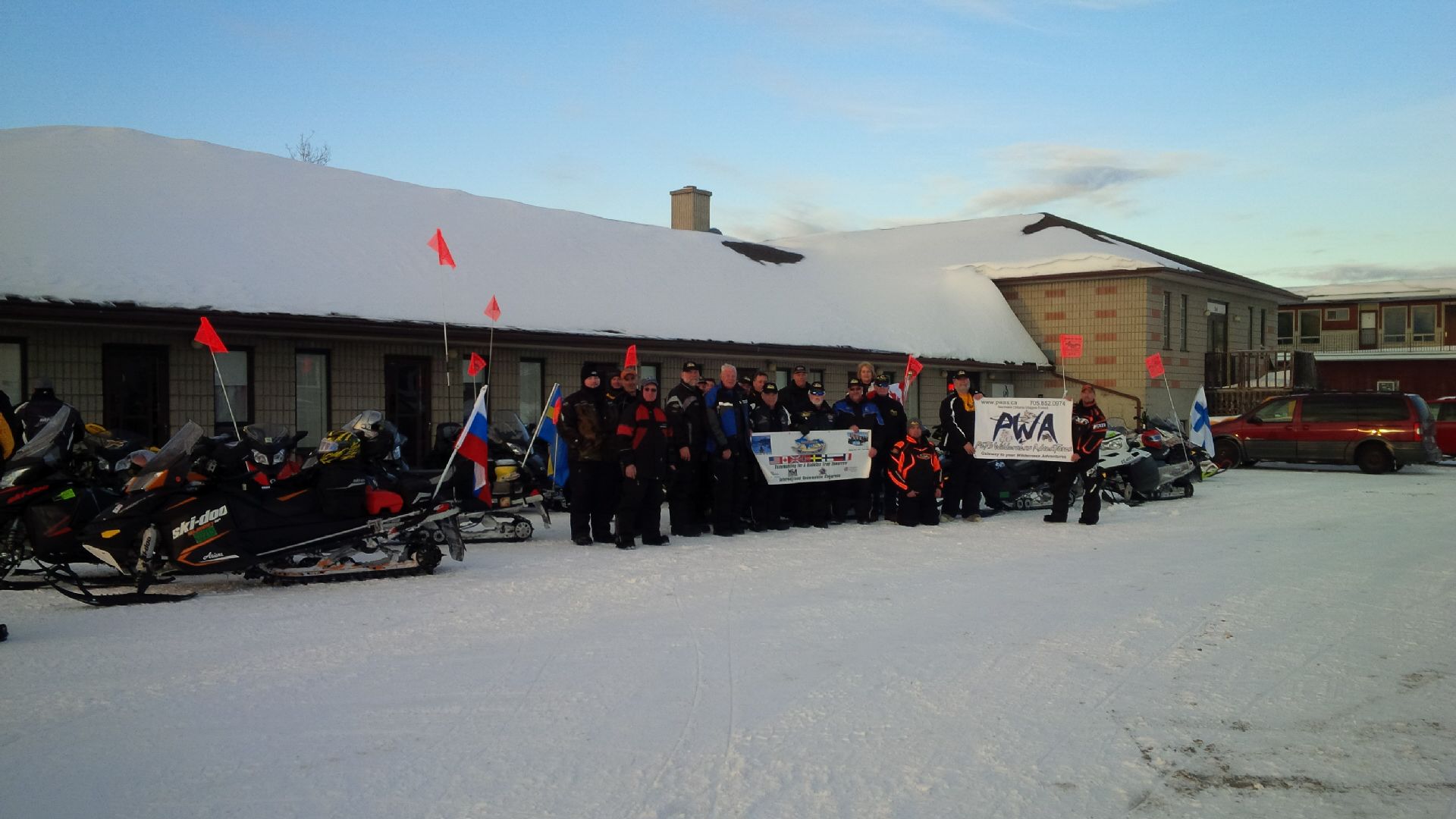 The guys outside the Magpie Relay.
After leaving Dubreuilville they will travel to Hearst, Ontario. Then reversing the route, they'll head back to Wawa. The group will be travelling on some of the greatest snowmobile touring trails in Canada.
There are participants on this ride from all the countries that we will be travelling through on this epic journey. The routing is as follows: USA, Canada, fly to Bodo, Norway, sled through Norway, Sweden, Finland and finally, Russia!
Once they arrive in Bodo, Norway they will meet their European guide, Marko Mustonen of Wild Nordic Finland, and set out on the next leg of this epic journey. When they cross into the Murmansk area of Russia they will continue their ride with two of the Russian riders, Alexander Moiseev and Andrey Bobanov who had joined on the USA leg of the tour. The Closing Ceremony, on February 24th, will be in St. Petersburg, Russia.
100% of the cost of this trip is borne by each of the individual riders.
100% of the money collected goes to the respective countries' Diabetes Associations to help fund research.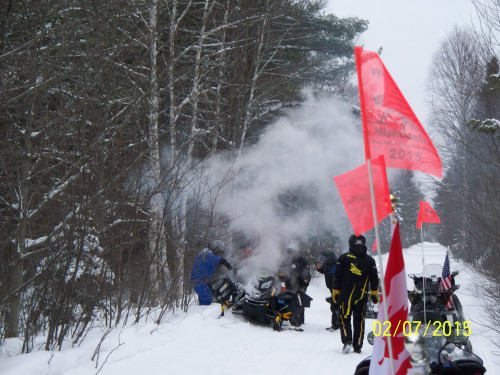 You never know what you will encounter on the trail. Here's a shot of the group putting out a fire of a sled that was riding the opposite way and blew a belt. Quick action put the fire out and saved this rider's sled from completely burning up!
The group has taken on extreme rides like this in the past:
In 2006 Jean-Guy Charette, Normand Suprenand, and Claude Castonguay rode from Kamloops BC to Ottawa ON.
Yves Leblanc, rode from Ottawa to Newfoundland, to Alaska, via Tuktoyaktuk, and return to Ottawa in 2007, a total distance of 17,400 km
Hugh Cummins is on his inaugural epic ride but has been an avid sledder for many years.
Joining them on the Canadian portion of the ride is Bill Bradfield, President of MichCanSka, and David Low, who at 87 years of age is the club's most senior member. Both of these gentleman rode on the original MichCanSka ride, from Sault Ste Marie, Michigan to Tok, Alaska, in 2010, a distance of 6,400 km.
This is a dream trip of the world's leading adventure sledders. Their dedication and drive to complete the ride is fuelled by the hope that it will raise funds for diabetes research and one day find a cure.